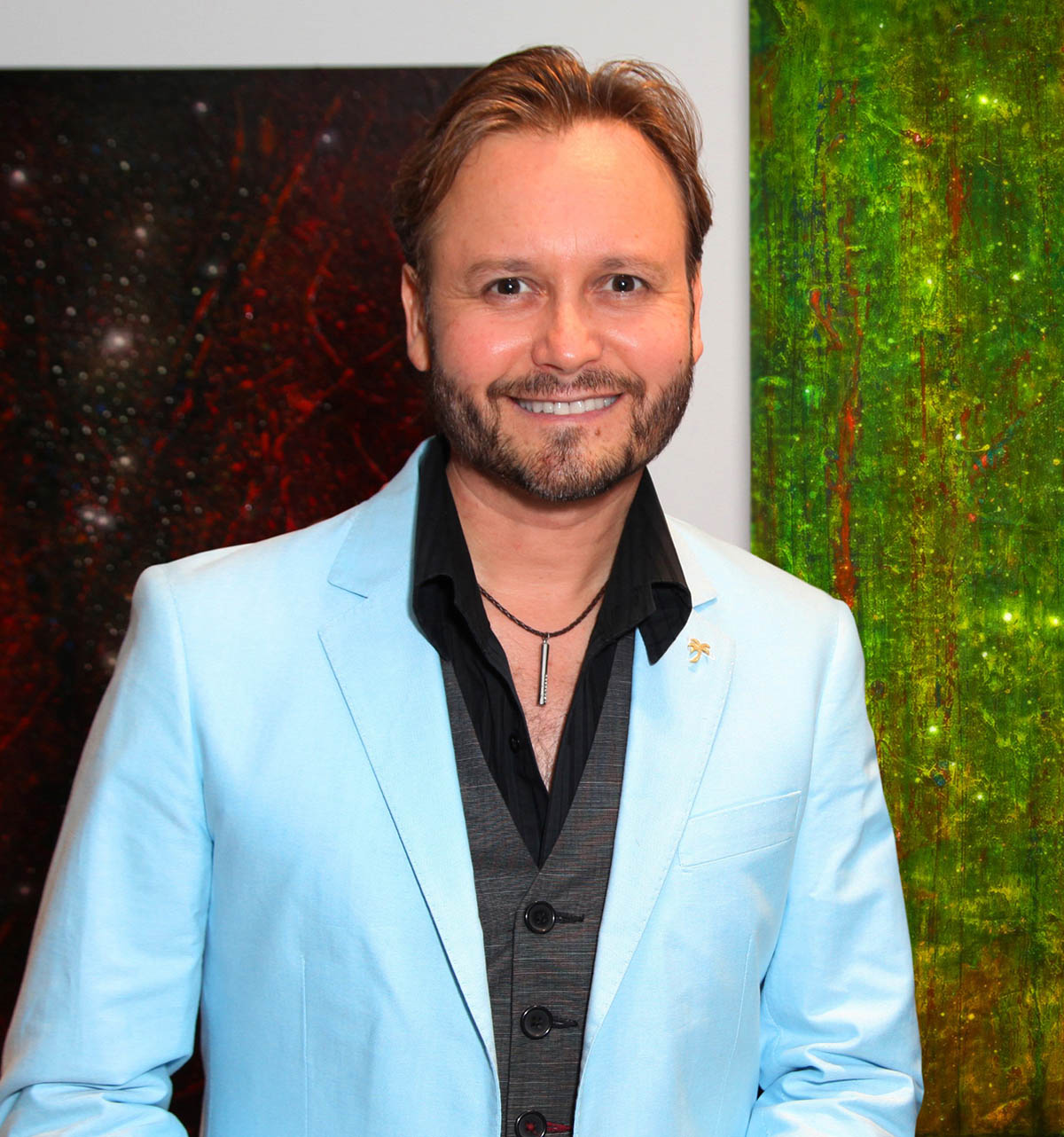 CONTEMPORARY VISUAL ARTIST
Marcelo Holzinger is a Contemporary Visual Artist from Miami, USA, who began his career as an Art Director and Adjunct Professor of Graphic Arts in his native Argentina. He was born in the city of Santa Fe, and started cultivating his artistic talents at a young age, feeling a strong sensitivity for beauty, nature, music, art and design.
During his teens, Marcelo and his family experienced years of hardship and adversity. Overcoming these obstacles helped solidify Marcelo's belief that everything is possible in life. He learned to consistently put his best into everything he did, and to always pursue his passion and dreams.
Marcelo moved to Buenos Aires where he went to College and graduated with a degree in Advertising & Design. While in school he worked his way up in an advertising agency, becoming its Art Director. He also taught Graphic Arts at the University of Architecture, Design and Urbanism of Buenos Aires.
His dreams led him to explore the world. In his early 20's he traveled throughout South America, Europe and the United States. The mix of cultures, the history, the art, the architecture, and especially the people that he encountered along his travels, strongly touched his heart and soul, and greatly impacted him as a person and as an artist.
Since he felt so enriched and excited by his travels, Marcelo embarked on an even bigger challenge; in the mid 1990's he left his beloved Argentina and moved to New York – a city he had fallen in love with – alone, with just a backpack, his CD player and an English dictionary. As a new, hard-working immigrant, he faced lots of difficulties, yet he always managed to turn them into opportunities. He worked as a Graphic Designer for various publications, and continued to pursue his passion for art and design.
After several intense, life-changing years in New York, Marcelo moved to Miami Beach, where he expanded and refined his artistic skills and worked as a creative consultant for various businesses and organizations. He also became an Interior Decorator – as another outlet for his artistic expression. Next, his professional journey led him to Houston, Texas, where he launched his career as a professional artist – marking the beginning of a new chapter in his life.
In the current phase of his journey, Marcelo has returned to Miami, a city that inspires him greatly. Since his return, Marcelo has become very actively involved on the forefront of Miami's burgeoning art scene. He has been participating in large and prominent art fairs, shows and events, including: the Masters Mystery Art Show at the Ritz-Carlton South Beach; the Miami River Art Fair (Art Basel editions 2012/2013); Designer for the Stars at the Miami Home Design Show; Meet the Artist Series 2014 at DCOTA Design Center of The Americas; Spectrum Art Fair (Art Basel edition 2014/2015); his opening art showroom in the prestigious Miami Design District in 2016; and his successful 2018 "One Night Only" Solo Art Show in the city of Miami, presented by Ford – among many, many others.
Marcelo created the original artwork for the Legends Ball Gala 2013 and 2014 of Unity Coalition at the Art Deco Welcome Center, and the Jackie Gleason Theater in Miami Beach. He also created the artwork for the Official Poster of The Pink Flamingo Awards 2014, and 2015, and he was selected as the artist for The Global Party 2014 benefiting the Global Charity Trust, where he was honored by the City of Miami. He also co-hosted a successful Gala Honoring City of Miami Mayor Tomas Regalado for his outstanding support of the Arts. Marcelo painted a portrait of the Mayor and it was unveiled in a ceremonial dedication at this event.
Marcelo also participated in the 2nd Annual Ellen DeGeneres Art Show in Los Angeles. He has also painted for some acclaimed entertainment personalities such as Fleetwood Mac's Lindsey Buckingham, and Argentine music legend Leon Gieco.
Marcelo's work has been also exhibited in international art fairs: Art Monaco at the Grimaldi Forum, Monte Carlo, Monaco; the 16th Annual Beijing International Art Exposition in Beijing, China; Art Latino Dans Le Monde in Liège, Belgium; and at the Carrousel du Louvre, at the Louvre Museum of Paris. In 2017, Marcelo has also exhibited in Dubai, London, Venice, and New York City, as part of the "World Art Tour."
Marcelo was honored with a Proclamation as Distinguished Citizen of the City of Miami "in recognition of his exceptional artistic accomplishments, his valuable contribution to the cultural life of our community and his extraordinary acts of humanitarianism and philanthropic spirit toward humankind" by City of Miami Mayor Tomas Regalado.
Marcelo has been also honored by the Honorable City Council of Santa Fe, Argentina, in recognition of his "career, artistic accomplishments and contributions as a Santa Fe native and ambassador of the city in the world."
Marcelo has participated as Juror and Art Curator for private exhibitions, fundraisers and art competitions. He strongly supports charitable causes and feels fortunate to be able to give back to his community whenever he can. He served as a Member of the City of Miami Arts and Entertainment Council (appointed by the Mayor of Miami), and Member of the Cultural Arts Advisory Committee World OutGames Miami 2107.
Marcelo's work has been acquired by private and corporate collections, including the Art Collection of the City of Miami.
With art shows throughout the USA, and world-class exhibitions in Europe and Asia, Marcelo has received national and international attention – with articles and profiles in numerous publications, TV and other media, including The Miami Herald, CNN Español, Univision TV Network, Upscale Living Magazine, NBC Miami, Fine Art Magazine "40th Anniversary Edition: Honoring Heroes of Creativity", and many others.
Marcelo also explores Photography, as another form of expression for his creative mind. He enjoys all styles of photography. He has been contracted to do photography shoots for brands and products, but he particularly loves working directly with people. The interaction and energy created with his subjects during a photoshoot inspires him to capture their inner and outer beauty . . . and their souls. 
Marcelo is thankful for having the ability to dream without limits, love deeply, be endlessly adventurous, and have a zest for life. Marcelo says: "I feel blessed to be able to do what I love. I'm always exploring, growing and evolving. I work, create and dream with passion . . . and with the intention of living every single moment of my life to the fullest."
The Creation: from pre-Conception to Birth.
I paint from the inside out; from pure and raw emotion. Painting fills me with feelings of accomplishment, fulfillment and purpose; and is the best vehicle for translating my inner passion and vision out to the world.
I usually start painting with a raw visual idea and basic concept – this is the pre-conception phase, where I let myself be inspired and guided by my feelings and emotions. The creative process is visceral, instinctive and interactive creating a powerful field of energy and action – the spontaneous act of painting in itself is the essential aspect of this phase of the process.
For days, a very intimate and passionate relationship between me and my work is created, and I let the process flow and evolve on its own – taking me to unknown and mysterious places – until it reaches a magical moment; a profound moment of understanding and awareness. It's the moment when the feelings and emotions connect with the mind. This is the conception of the art piece. From that point forward I continue the development of the artwork in a much more analytical and intellectual way until the work is finished and comes alive . . . it is the birth of the artwork. The relationship between feeling/emotion and concept/analysis is present in all of my work. My art is abstract, non-figurative and non-objective. I use texture, shape, form, color and line to create compositions that are a (partial or complete) departure from reality. This departure from accurate representation triggers the imagination and evokes an intriguing, enigmatic – and sometimes incomprehensible – reaction and emotion in the viewer.
Nature and beauty are my biggest inspirations. Beauty in all different forms; the beauty in nature and also, the beauty created by us – not only present in physical and material forms but also in non-physical forms – an "act of love" for example. I believe that the most significant and profound beauty is not the external, superficial and socially distorted idea of beauty – but the beauty in its pure essence.
My desire is to produce a personal and social impact in the world by bringing awareness to the importance of nature in our lives and helping strengthen the presence of inner and outer beauty around us. My intention is that the energy and passion that flows through me and into my art will continue to flow out into the world, and help enrich the lives of all those who come in contact with it.
CURRICULUM (Solo & Collective Exhibitions)
Solo & Collective Exhibitions
Marcelo has an extensive curriculum of over 70 exhibitions and events throughout the USA (Miami, New York, Houston, Los Angeles), and around the world, including: Paris (at the Carrousel du Louvre Museum, France), Monaco (Monte Carlo), Beijing (China), Liège (Belgium), Dubai (United Arab Emirates), Venice (Italy), and London (United Kingdom). For more information about his exhibitions, please [click here].
AWARDS / HONORS / RECOGNITIONS
2015 • Honored by the Honorable City Council of Santa Fe, Argentina, in recognition of his "career, artistic accomplishments and contributions as a Santa Fe native and ambassador of the city in the world."
2014 • Proclamation. Marcelo Holzinger: Distinguished Citizen of the City of Miami, "in recognition of his exceptional artistic accomplishments, his valuable contribution to the cultural life of our community and his extraordinary acts of humanitarianism and philanthropic spirit toward humankind." ~City of Miami Mayor Tomas Regalado.
2013 • Mention of Honor: Most Original Artwork (Technique, Originality and Creativity). "Art Latino Of The World" Collective Exhibition. Belgium, Europe.
2012 • ARTslant Prize 2012 – Showcase Winner. Category: Painting. Competition juried by a panel of gallerists, curators and other arts professionals from Berlin, London, Paris, Mumbai, New York, Los Angeles, Miami and San Francisco.
2011 • Acknowledged by the City of Miami Beach for being "an extraordinary asset to the cultural life of our community, our state and our country, as an artist and humanitarian."
2010 • Winner of "Who's Next Gallery" contest by WeMerge Magazine. Curated and selected by the magazine Editor's team, from among hundreds of submissions, and final selection based on a popularity vote by the public – the equivalent of a "people's choice award."